Single Member Wards
Eight councils will change to Single Member Wards for the 2020 elections.
New ward boundaries for the eight councils are informed by modelling by the Victorian Electoral Commission (VEC). These boundaries ensure each councillor represents roughly the same number of voters.
Maps of the new ward boundaries are available below. The affected councils have been asked for their comments and suggestions for ward names by 25 May. This will enable the maps to be finalised and Gazetted for the elections.
Unsubdivided
2 councils will move to an unsubdivided structure
Swan Hill Rural City Council
Mansfield Shire Council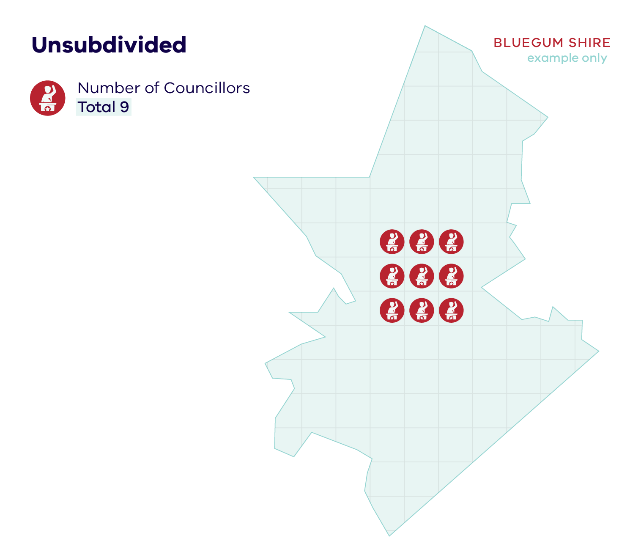 Uniform Multi-Member Wards
No councils will move to Uniform Multi-Member Wards in this round of changes, but it remains a future option.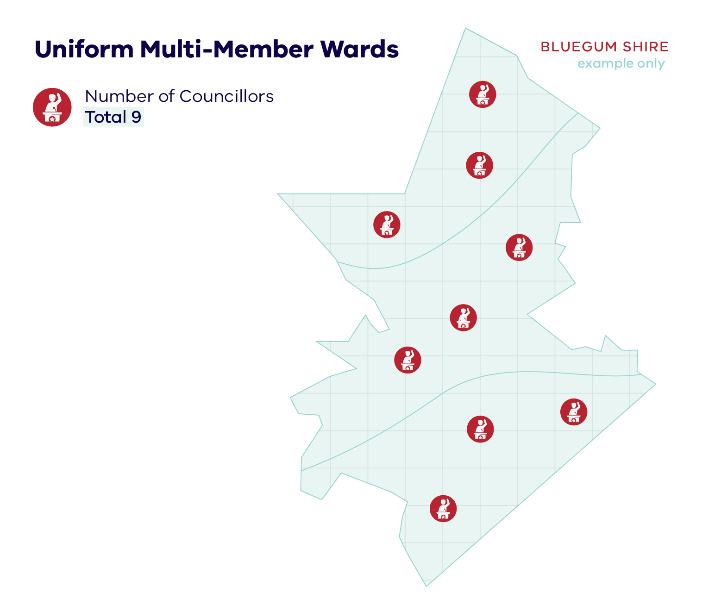 15 councils that were under review by the VEC will retain their current ward structure
Banyule City Council
Boroondara City Council
Murrindindi Shire Council
Nillumbik Shire Council
Ararat Rural City Council
Benalla Rural City Council
Borough of Queenscliffe
Colac Otway Shire Council
East Gippsland Shire Council
Glenelg Shire Council
Golden Plains Shire Council
Moira Shire Council
Moyne Shire Council
Southern Grampians Shire Council
What about the other councils?
All other councils will have compliant electoral structures prior to the 2024 council general elections.
How will this happen?
After the 2020 local government general elections, an independent Local Government Electoral Representation Advisory Panel will review council electoral structures.
The Panel will include the Victorian Electoral Commission and other members appointed by the Minister for Local Government.
The Panel will work with the community to review and recommend to the Minister which councils will need to change to new structures before the 2024 elections.
Large and small rural councils eligibility
Large and small rural councils are eligible to be considered for single member, unsubdivided or uniform multi-member structures when being reviewed by the Electoral Representation Advisory Panel.
Alpine Shire Council
Ararat Rural City Council
Bass Coast Shire Council
Baw Baw Shire Council
Benalla Rural City Council
Borough of Queenscliffe
Buloke Shire Council
Campaspe Shire Council
Central Goldfields Shire Council
Colac Otway Shire Council
Corangamite Shire Council
East Gippsland Shire Council
Gannawarra Shire Council
Glenelg Shire Council
Golden Plains Shire Council
Hepburn Shire Council
Hindmarsh Shire Council
Indigo Shire Council
Loddon Shire Council
Macedon Ranges Shire Council
Mansfield Shire Council
Mitchell Shire Council
Moira Shire Council
Moorabool Shire Council
Mount Alexander Shire Council
Moyne Shire Council
Murrindindi Shire Council
Northern Grampians Shire Council
Pyrenees Shire Council
South Gippsland Shire Council
Southern Grampians Shire Council
Strathbogie Shire Council
Surf Coast Shire Council
Swan Hill Rural City Council
Towong Shire Council
Wellington Shire Council
West Wimmera Shire Council
Yarriambiack Shire Council