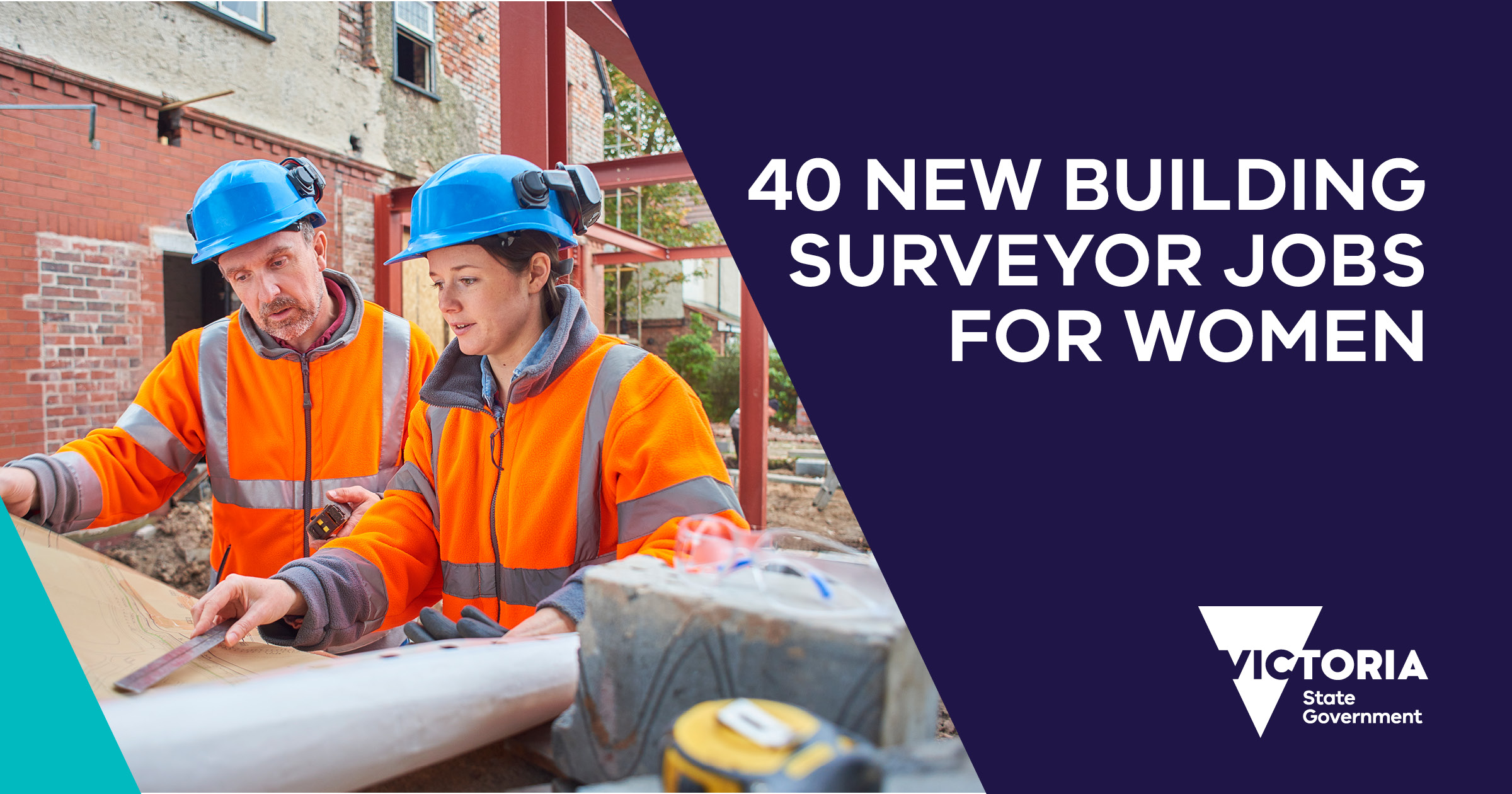 About the Program
Launched as part of the 2020-21 State Budget, the Women Building Surveyors Program has committed $6.3 million over two years to give 40 women new opportunities to become building surveyors with councils across Victoria.
All 79 councils in Victoria were able to nominate one of their female staff members or recruit a female staff member to participate in the program.
On 18 January 2021, the Minister for Local Government Shaun Leane announced the 40 successful councils that have received $75,000 a year so their candidate can begin the professional qualifications, gain work experience at the council and attend development opportunities. The media release is available here
The 2020-21 successful councils include:
Ararat Rural City Council
City of Ballarat
Banyule City Council
Benalla Rural City Council
City of Casey
Corangamite Shire Council
Darebin City Council
Frankston City Council
Glen Eira City Council
Glenelg Shire Council
Golden Plains Shire Council
Greater Shepparton City Council
Hepburn Shire Council
Hobsons Bay City Council
Hume City Council
Knox City Council
Latrobe City Council
Mansfield Shire Council
Maribyrnong City Council
Maroondah City Council
City of Melbourne
Melton City Council
Mitchell Shire Council
Moira Shire Council
Monash City Council
Moorabool Shire Council
Mount Alexander Shire Council
Murrindindi Shire Council
Nillumbik Shire Council
Northern Grampians Shire Council
South Gippsland Shire Council
Strathbogie Shire Council
Surf Coast Shire Council
Swan Hill Rural City Council
Rural City of Wangaratta
City of Whittlesea
Wodonga City Council
Wyndham City Council
Yarra City Council
Yarra Ranges Shire Council
Program Partner
Local Government Victoria is running the Women Building Surveyors program in partnership with LGPro, councils and training providers.
Expert advice will come from the Victorian Municipal Building Surveyors Group (VMBSG), the Victorian Building Authority (VBA) and the Australian Institute of Building Surveyors (AIBS).
Participants are invited to contact LGPro (Program Partner) representative Cathy Skippington at CathyS@lgpro.com.
Information Session
An information session for successful candidates held on 19 January 2021. A recording of the session is available here.
Program Guidelines
You can view the program guidelines here
Applications for the program are currently closed.
Further Questions
If you have further questions, please contact LGV at wbsp@ecodev.vic.gov.au.