About the program
Applications for the 2021-22 Living Libraries Infrastructure Program are now closed.
The Living Libraries Infrastructure Program (LLIP) enables Victorian councils and regional library corporations to deliver new or renewed library infrastructure for their communities.
The program aims to enable councils to continue to provide library facilities that meet the needs of communities and, in doing so, support the role of libraries in strengthening communities and encouraging opportunities for community participation.
Funding is provided to support projects that deliver and demonstrate benefits for the community and/or aim to improve engagement and access to learning opportunities.
Funding is available through two categories: minor works, and major works. For further information, see the 2021 Program Guidelines.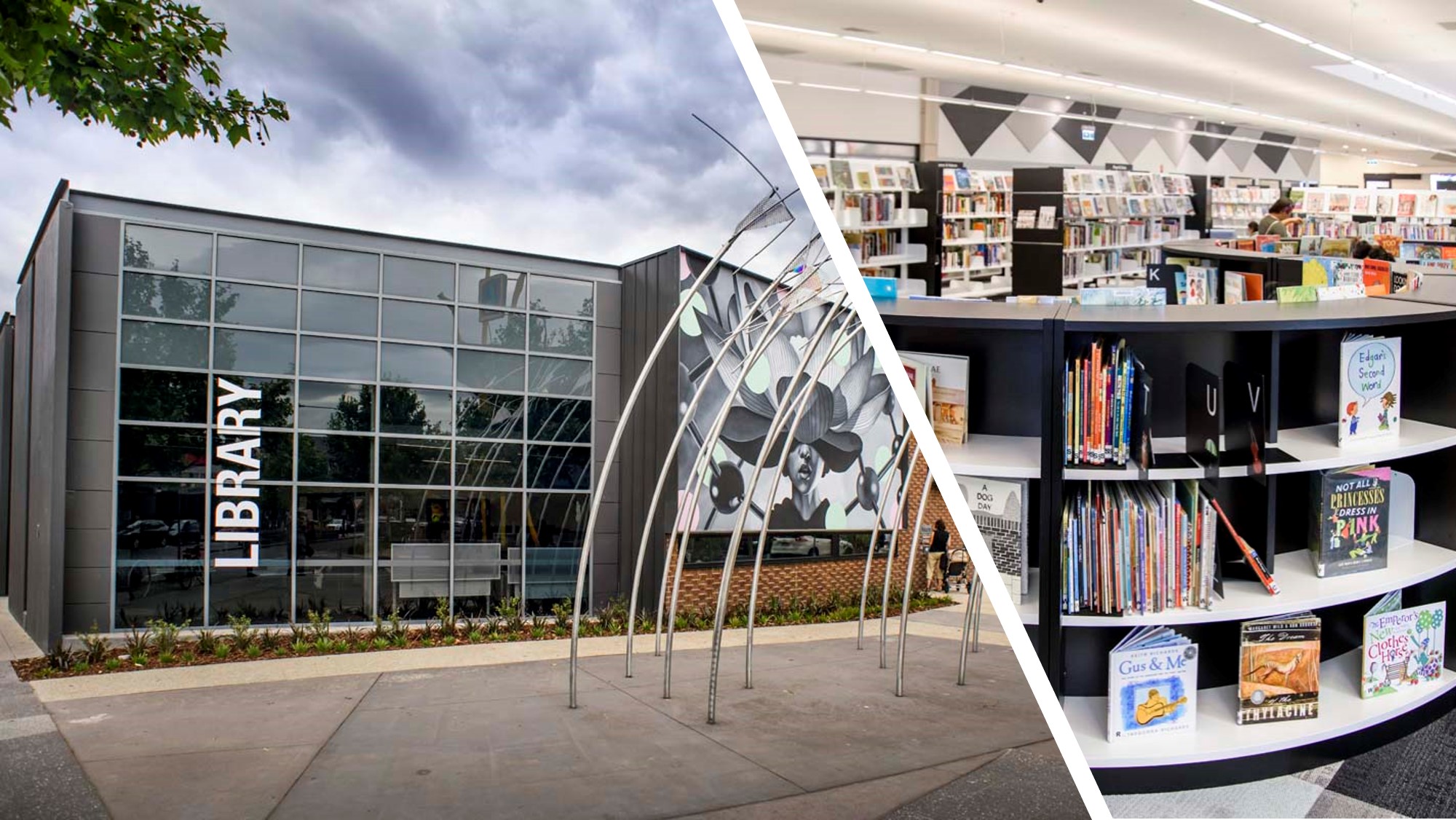 Ararat Rural City Council – Ararat Library Upgrade - $67,538
This project will create a fresh, modern and welcoming space for the community to access information, collaborate and connect at the library. The refurbishment will allow a more flexible use of the library space to enable innovative programming and expanded room for study and quiet areas.
Bass Coast Shire Council – Cowes Library Redevelopment - $800,000
The new Cowes Library will be a dynamic and interactive space that will bring together the cultural and social aspirations of the community. The centre will also incorporate a theatre, gallery and café spaces as well as a new open space in the centre of Cowes. The Centre will support the projected growth in population and provide for the local demand for cultural, artistic and community program and services.
Bayside City Council – Library COVID Recovery - $92,500
This project will see the installation of Smart Chutes in the Hampton Library foyer and will remove the need for a chute to be touched when returning books, minimising high touch points for the community. Installation of self-service Lockers will allow for customers to self-borrow 24/7 to help increase volume.
Brimbank City Council – Keilor Library Outdoor Learning Lounge - $100,000
This project will turn the vacant and under-utilised parkland adjacent to the Keilor Library into a place for learning, recreation and solace in a green setting and increase the library space by 217sqm. Capacity for programming and visits to the library will increase whilst meeting social distancing requirements.
Buloke Shire Council – Getting More from the Mobile Library - $19,200
The refurbishment of the mobile library will enhance the service provided to residents. It will increase the usability and functionality of the current library.
Campaspe Shire Council – Rushworth Library Upgrade - $604,428
The upgrade of the Rushworth Library is currently well below standard and will give the opportunity to provide amenities and comfortable spaces for members as well an increase in capacity to deliver programs.
Cardinia Shire Council – Emerald Library Upgrade - $97,500
The upgrade of the Emerald Library will create a larger space for children and families to enjoy; expand study spaces for students; improve accessibility and enhance public amenity. Improve efficiency of service delivery.
Central Goldfields Shire Council – Maryborough Library Renewal - $145,000
The Maryborough Renewal project will allow for a more flexible environment to deliver programming and flexible spaces.
City of Greater Geelong – Drysdale Library and Community Hub Redevelopment - $1,000,000
The Drysdale Library and Community Hub will be located at the highest point on the Bellarine Peninsula. City of Greater Geelong has worked in collaboration with Wadawurrung, Geelong Regional Library Corporation and local stakeholders in the design a new library and community hub for the Drysdale and northern Bellarine Peninsula communities. The hub will deliver a contemporary branch library building for one of the fastest growing regions in Geelong.
Glen Eira City Council – Bentleigh Library and Youth Hub Redevelopment - $1,000,000
The Bentleigh Library and Youth Hub will become a vibrant civic centre, integrated with Council's Youth Services. The new Bentleigh Library and Youth Hub will include flexible multipurpose spaces, community programming and training facilities, study and lounge areas, and accessible collections.
Glenelg Shire Council – Glenelg Libraries Outreach Vehicle Fit-out - $47,783
The Outreach Vehicle will continue to service the rural and remote areas of the Glenelg Shire Council, which has been running for the past 6 years.
Goulburn Valley Regional Library Corporation – Improved Mobile Library Services to Small Rural Communities - $120,120
The Improved Mobile Library Services to Small Rural Communities project will increase access to library collections from two hours per week in each town to 24 hours a day seven days a week in addition to weekly mobile visits.
Greater Dandenong City Council – Keysborough South Community Hub Library Lounge Development - $1,000,000
The Keysborough South Community Hub will address the gap in services across the LGA, providing a multi-purpose space to deliver a variety of activities, programs and community services.
Hindmarsh Shire Council – Nhill Library Upgrade - $87,500
This project will enhance Nhill Library's sense of place within the community through the creation of an all inclusive and dynamic library space.
Hobsons Bay City Council – Altona Meadows Library and Learning Centre Refurbishment - $500,000
The Altona Meadows library will transform into a more inviting, relevant and functional space which in turn will see an increase in usage by the broader community.
Mansfield Shire Council – Mansfield Library Upgrade - $543,511
The Mansfield Library will see an increase in floor area from 325m2 to 354m2 and will create a more welcoming layout and provide flexibility to provide a better service for the community.
Mildura Rural City Council – Merbein Community Hub Library Courtyard Upgrade - $30,000
The Merbein Library will see the creation of extra spaces for people using the library to sit, and allow for an expansion of programs offered by the Library.
Mitchell Shire Council – Broadford Customer and Library Service Refurbishment - $75,000
The Broadford Customer and Library Service Refurbishment project will encourage usage, activation and engagement.
Moira Shire Council – Yarrawonga Library, Events and Performance Precinct Redevelopment - $1,000,000
A new community library, events and performance facility will be developed by wrapping a modern library around the historic town hall, complimenting existing architecture and use. This provides a flexible hub to meet community needs while revitalising the town hall and replacing the current over capacity library.
Monash City Council – Mulgrave Library Expanded Space - $117,500
The Mulgrave Library's footprint will expand from 27.1m2 to 80m2. The expansion will promote community wellbeing and social connection.
Moonee Valley City Council – Flemington Library Redevelopment - $1,000,000
The Flemington Library Redevelopment will remedy accessibility issues present in the current design, substantially increase publicly available space and create a modern, program friendly flexible design.
Moreland City Council – Coburg Library Accessibility Upgrades - $81,500
The Coburg Library Accessibility Upgrade project will increase accessibility and flexibility of the Coburg Makerspace, ensuring it can be widely used by the community.
Northern Grampians Shire Council – Modernising the Stawell Library - $640,000
The Stawell Library Modernisation project will deliver a modern flexible library/community space that will serve the community. It will create designated and informal areas for technology use, increase program space for children and adults and improved the usability of the space and showcase the collection with appealing flexible shelving.
South Gippsland Shire Council – Mirboo North Library Refurbishment - $67,000
The Mirboo North Library Refurbishment project will result in a modern and welcoming space that the community can visit and connect with each other.
Swan Hill Rural City Council – Outreach Library Services Vehicle Fit-out - $267,050
The Swan Hill Region Outreach Library Services Vehicle will deliver a more flexible and expansive range of outreach library services and programs for the community, focusing on the specific needs of outlying communities and community events, by replacing the current articulated mobile library vehicle, which is at the end of its life with a smaller, more versatile vehicle.
Wyndham City Council – Pop Up Library Van – Taking the Library Experience to the Community - $97,428
The Wyndham Pop Up Library Van project is an innovative service to take library services and programs out to the community. It also enables residents who are not serviced by a physical library, the opportunity to connect and enjoy library services and programs.
Ararat Rural City Council – Outreach Van - $120,000
This project will upgrade the Ararat Rural City Council library outreach service by purchasing a new library van including fit-out. The ARCC service provides weekly library access to the Shire's outlying rural communities.
Ballarat City Council – Ballarat Library of the Future - $500,000
The refurbishment of the Ballarat Library will increase public floor space of the library by approximately 600sqm and the develop the second storey for public use which will house the digital hub. The main entrance will be relocated to interact with GovHub, Civic Hall and the CBD, children's area will be expanded and upgrade to cater for story time and other programming for 100 people as well as a dedicated 'discovery' space for children.
Buloke Shire Council – Wycheproof Library - $240,000
The Wycheproof Community Resource Centre will be extended to create a purpose-built space to deliver the Buloke Library Service with improved access and allowances for new services to be implemented.
Central Goldfields Shire Council – Dunolly Library - $140,600
The Dunolly Library will provide the community and surrounds with a permanent library. The "Old Police Station" will be renovated, a ramp installed to allow access for all, removal of an internal wall to maximise space, recarpet, paint and provide shelving units and construct all abilities toilet facilities.
Greater Bendigo City Council – Kangaroo Flat - $400,000
An improved library service will be delivered for the community at a new highly-accessible location following expiration of the 40-year Lansell Square lease. The new site will provide larger flexible program spaces, areas for children and families, expanded room for IT and personal workers and potential for new local community focused partnerships.
Hindmarsh Shire Council – Jeparit/Rainbow Libraries - $300,000
This project will see the establishment of new Libraries in Jeparit and Rainbow through the redevelopment of existing Council owned buildings that will provide people of all demographics and abilities access to a broad range of literacy services and programs in refurbished community facilities.
Knox City Council – Knox Central Library - $450,000
The Knox Central Library will more than double in size by moving premises and redeveloping a larger, more central building. This will also increase the library's appeal/accessibility across all life stages due to the safer, more activated location within an entertainment precinct, offering scope for increased hours and broader service offering.
Nillumbik Shire Council – Diamond Valley Library - $500,000
This project will refurbish the existing dated library building which will include ensuring accessibility compliance, extending the children's area, including a Tech Area, building a community meeting room, refurbishing the quiet study area, and, introducing co-working spaces. The project is a collaboration between Nillumbik Shire Council and Yarra Plenty Regional Library.
Pyrenees Shire Council – Outreach Van - $120,000
The outreach library services to the Pyrenees Shire communities will be improved by purchasing a purpose-built mobile library van including fit-out. The service currently visits Landsborough Resource Centre, Snake Valley Primary School and Lexton Rural Transaction Centre, and will provide the opportunity to expand the service to other communities in the Shire in the future.
South Gippsland Shire Council – Korumburra Library - $750,000
The Korumburra Community Hub Development is an integrated project of community services and will accommodate a new library, Milpara Community House, Senior Citizens, Historical Society, Rotary Club Art Collections and exhibition spaces. The new library will incorporate a breakout zone/reading lounge, young adult area and youth games area, quiet study zone and internet and printing hub, new children's area, computer lab and separate adult and youth books area.
Yarra Ranges Shire Council – Belgrave Library - $450,000
At the completion of this project, the Belgrave Library will have an increased flexibility of its current spaces and will be a contemporary future-proof library, whilst maintaining its traditional strengths. Upgrades will include the entrance way and foyer, service desk, meeting rooms, zoning of spaces & fixtures and fittings.
Yarriambiack Shire Council – Outreach Van - $120,000
A new Outreach Van will provide Community based Library options across the Yarriambiack Shire Council area. These options are driven by Community need and set up to provide better access to Library services for all age groups ensuring people live with literacy.
More information
For further information on the Living Libraries Infrastructure Program, please contact:
Melissa Short, Program Manager
melissa.short@ecodev.vic.gov.au
0434 780 150