About the program
The Living Libraries Infrastructure Program (LLIP) enables Victorian councils and regional library corporations to deliver new or renewed library infrastructure for their communities. The program supports councils to continue to provide library facilities that meet the needs of their communities and encourage community participation.
The 2022-23 Living Libraries Infrastructure Program funding round closed to applications on 4 July. The Minister for Local Government, the Hon Melissa Horne MP has announced 11 projects with a total project value of $48.6 million have been successful in receiving funding.
For further information on the successful recipients, please see "2022-23 Funding Round – Successful Projects" link below.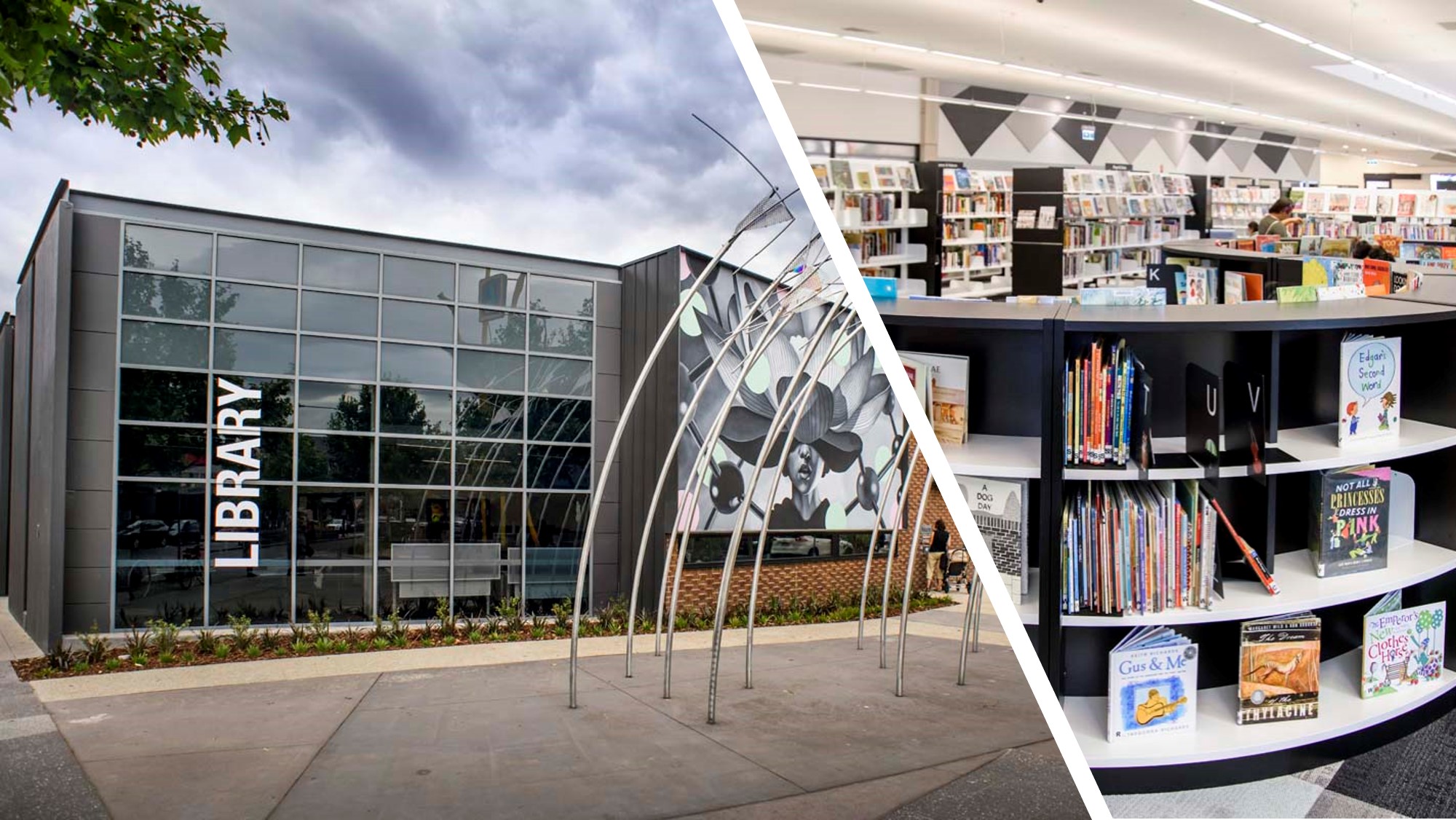 BAW BAW SHIRE COUNCIL – BAW BAW CIVIC PRECINCT STAGE 1 - $1,000,000
The Baw Baw Civic Precinct Stage 1 will deliver a new inspiring community building at the edge of Civic Park in Warragul - the Baw Baw Culture and Connection Precinct. A feature of the precinct is a multi-faceted library that will offer a much-needed upgrade to the outdated library facility currently on offer in Warragul.
CITY OF MELBOURNE – MUNRO LIBRARY AND COMMUNITY HUB - $1,000,000
Munro Library and Community Hub at Queen Victoria Market will house a new state of the art library operating over three levels totalling 3,000m2 and including a large 960m2 outdoor terrace, children's library and makerspace. The project will accommodate a Family Services office and counselling suites. Bookable community meeting rooms will also be among the services that are offered. Funds will be used to support the fit-out of the 'cold shell' building.
EAST GIPPSLAND SHIRE COUNCIL – MOBILE LIBRARY REPLACEMENT - $53,921
This project will see the purchase and fit out of a new transit van to deliver mobile services to the communities of rural and remote areas of East Gippsland.
GOLDEN PLAINS SHIRE COUNCIL – MOBILE LIBRARY REPLACEMENT - $111,559
This project will see the purchase and fit out of a replacement mobile library van to enhance and complement current services, upgrade community library service offerings and to pilot, monitor and enable design of more cost effective and tailored services reflective of the changing environment and engagement of users.
GREATER BENDIGO CITY COUNCIL – HEATHCOTE LIBRARY, AS PART OF THE HEATHCOTE COMMUNITY HUB - $1,000,000
This project will deliver an expanded and more welcoming, inclusive and flexible Heathcote Library co-located within a community hub. Available space for library services will be approximately doubled and library opening hours will be extended.
HINDMARSH SHIRE COUNCIL – HINDMARSH SHIRE LIBRARIES TO YOU - $76,000
Hindmarsh Shire Libraries to You will see the purchase of an appropriately equipped transit van to establish library services connecting Hindmarsh residents from kinders, daycare, and schools to aged care facilities and home care clients.
SOUTHERN GRAMPIANS SHIRE COUNCIL – RFID SECURITY AND SELF-CHECKOUT UPGRADE - $26,645
Replacement of RFID Self-Checkout infrastructure will improve OH&S for patrons and see an upgrade of equipment reaching its end-of-life. This will enable library patrons to efficiently and easily use the self-access to their library accounts and to self-borrowing. The installation of an RFID enabled security gate will facilitate the borrowable collection security and collection of customer traffic statistics.
WHITEHORSE MANNINGHAM REGIONAL LIBRARY CORPORATION – WARRANDYTE LIBRARY "OPEN LIBRARY" - $40,000
This project will see the implementation of the "open library" model at Warrandyte Library, increasing community access to the library space, collections, internet and other services by 244%. The "open library' un-serviced hours will complement the hours the library operates with service by staff available.
WYNDHAM CITY COUNCIL – HOPPERS CROSSING LIBRARY – TWO NEW ROOMS FOR THE COMMUNITY - $117,445
The objective of this project is to offer increased public access space at the Hoppers Crossing Library by providing two small rooms that community members can book for study, meetings, work, etc. Existing library office space, including one meeting room, will be repurposed to provide this extra space to the community.
YARRA PLENTY REGIONAL LIBRARY CORPORATION – YPRL OUTREACH VEHICLE - $150,000
YPRL will replace its 16-year-old Outreach Vehicle. The OV services retirement villages and nursing home across the 3 YPRL funding councils (Banyule, Nillumbik and Whittlesea). The new vehicle is a hybrid vehicle which any YPRL staff member can drive. The current vehicle requires a medium-rigid licence. The new vehicle size will be more flexible which means the OV is more agile and can increase its service reach across a larger number of facilities with multiple drivers.
YARRIAMBIACK SHIRE COUNCIL – DUNMUNKLE COMMUNITY LIBRARY PRECINCT - $578,163
This project will reactivate and redevelop the old Shire Office in Rupanyup, creating an interactive, community library precinct for the southern end of the Shire. Utilising indoor and outdoor space and zones, enticing people from diverse backgrounds (age, gender, race, socio-economic background) to utilise the facilities.
Ararat Rural City Council – Ararat Library Upgrade - $23,500
This project will purchase and install a Smart Locker system at the Ararat Library for online borrowing and pick ups. This will extend the coverage and accessibility of the library, with 24/7 access allowing drop-off and pick-up items at times that are convenient for patrons.
Banyule City Council – Rosanna Library Redevelopment - $1,500,000
Through a partnership arrangement Banyule City Council are delivering a new library, double the size of the existing library - expanding the children's area, new co-working and study spaces, community meeting rooms, reading areas and much more. A brand new 1,300sqm community library incorporating indoor and outdoor spaces in the heart of Rosanna.
Bayside City Council – Hampton Library refurbishment - $90,000
This project will transform the Hampton Library into a more inviting, relevant and functional space which in turn will see an increase in usage by the broader community. The floorspace will be increased and a flexible floorplan will be adopted. A new fit for purpose ergonomic circulation desk will be installed.
City of Casey – Endeavour Hills Library Renewal (EHLR) - $54,000
Endeavour Hills Library Renewal (EHLR) will create a welcoming, accessible entrance through modernising the service desk and self-check station, a dedicated meeting room, and re-purposing floor space. This will enrich customer experience, connect community groups, enable flexibility and innovative programming, create quiet study and workspaces, and meet multi-generational needs.
City of Greater Geelong – Armstrong Creek Library & Community Hub - $1,500,000
The City will deliver the first civic infrastructure in the Armstrong Creek town centre as a state of the art, environmentally sensitive, universally accessible, technologically enabled library and community hub for the delivery of library and community services for the Armstrong Creek growth area which is the largest continuous growth area in Victoria.
City of Greater Geelong – Chilwell Library Redevelopment - $150,000
This redevelopment project features a multipurpose meeting space, small meeting room and internal bathrooms at Chilwell Library. The design will maximise the interface with the surrounding park, increase the building size by approximately 164m2 and the capacity from 19 people to up to 60.
City of Whittlesea – Patterson Drive Community Centre Spoke Library - $709,500
This project sees the construction of a community terrace and lounge containing a small collection, kiosk and study/maker space area. The project will also include the construction of a carpark to accommodate the mobile library service.
Corangamite Shire Council – Skipton Library Book Depot - $49,541
Established at the Skipton Mechanics Institute in a dedicated space, the funding will be used to provide the necessary fixed infrastructure to support the development and fit out of a library book depot including a self loan station, WIFI equipment, anytime access entrance unit for main access door, access ramp and entry platform to the room.
Gannawarra Shire Council – "the Glasshouse" @ the Gannawarra - $1,500,000
This project will build "the Glasshouse" media lab and meeting place at the Sir John Gorton Library in Kerang.
Goulburn Valley Regional Library Corporation – Refresh and modernise Euroa Library - $91,850
Refresh and modify the Euroa Library to provide a contemporary library space and improve community access.
Goulburn Valley Regional Library Corporation – Refresh and modernise Numurkah Library - $110,440
Refresh and modify the Numurkah Library to provide a contemporary library space and improve community access.
Moonee Valley City Council – Ascot Vale Library - $1,500,000
Ascot Vale Library will be significantly expanded and renewed, responding to years of community feedback and an identified library infrastructure planning need. The floorspace will increase from 220m2 to 597m2, creating spaces for programs, study and meetings, which are much needed by the community who use this library.
Moorabool Shire Council – Ballan Library & Community Hub Project - $1,500,000
The Ballan Library & Community Hub will deliver a state of the art facility including library services, Maternal & Child Health, art exhibition space, visitor information centre and community meeting rooms of various capacity. The Hub will deliver services to young families through to the 65+ members of our community.
Wyndham City Council – Truganina Community Centre - $921,169
The library services area within Truganina Community Centre will include: book returns chute accessible inside and outside of the centre; book sorting and storage room; technology lounge with access to PC's and/or laptops; silent study space; and a library lounge area with bookshelves and seating for individuals and groups including an early years library lounge with bookshelves.
More information
For further information on the Living Libraries Infrastructure Program, please contact:
Melissa Short, Program Manager
melissa.short@ecodev.vic.gov.au
0434 780 150