About the program
The 2022-23 Living Libraries Infrastructure Program funding round has now closed for applications. A list of successful recipients will be published from September 2022.
The Living Libraries Infrastructure Program (LLIP) enables Victorian councils and regional library corporations to deliver new or renewed library infrastructure for their communities.
The program aims to enable councils to continue to provide library facilities that meet the needs of communities and, in doing so, support the role of libraries in strengthening communities and encouraging opportunities for community participation. Funding is provided to support projects that deliver and demonstrate benefits for the community and/or aim to improve engagement and access to learning opportunities.
Funding is available through two categories:
Minor Works - $10,000 - $150,000
Major Works - $150,001 - $1,000,000
A list of successful recipients for 2022-2023 funding round will be published from September 2022.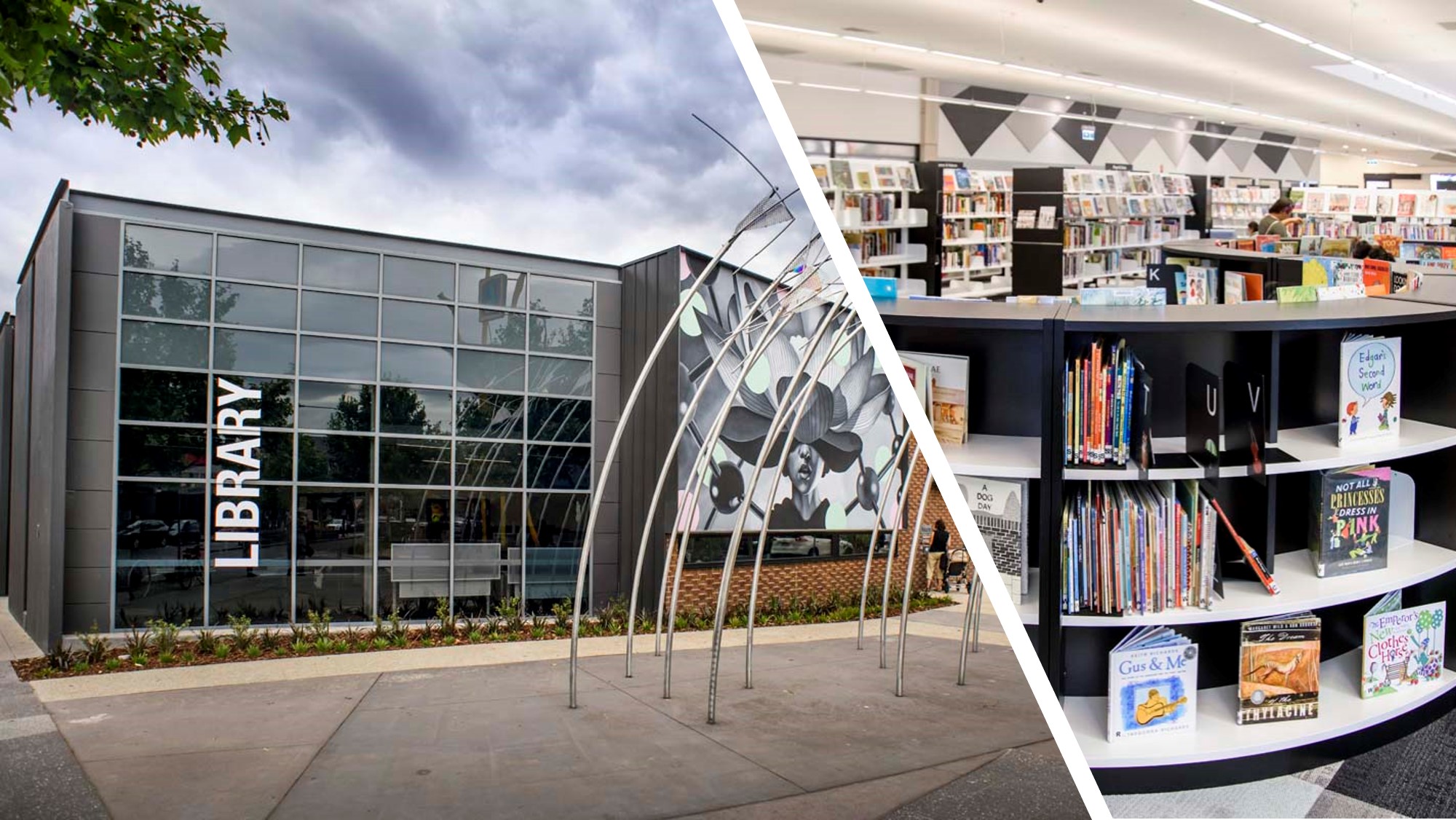 Ararat Rural City Council – Ararat Library Upgrade - $23,500
This project will purchase and install a Smart Locker system at the Ararat Library for online borrowing and pick ups. This will extend the coverage and accessibility of the library, with 24/7 access allowing drop-off and pick-up items at times that are convenient for patrons.
Banyule City Council – Rosanna Library Redevelopment - $1,500,000
Through a partnership arrangement Banyule City Council are delivering a new library, double the size of the existing library - expanding the children's area, new co-working and study spaces, community meeting rooms, reading areas and much more. A brand new 1,300sqm community library incorporating indoor and outdoor spaces in the heart of Rosanna.
Bayside City Council – Hampton Library refurbishment - $90,000
This project will transform the Hampton Library into a more inviting, relevant and functional space which in turn will see an increase in usage by the broader community. The floorspace will be increased and a flexible floorplan will be adopted. A new fit for purpose ergonomic circulation desk will be installed.
City of Casey – Endeavour Hills Library Renewal (EHLR) - $54,000
Endeavour Hills Library Renewal (EHLR) will create a welcoming, accessible entrance through modernising the service desk and self-check station, a dedicated meeting room, and re-purposing floor space. This will enrich customer experience, connect community groups, enable flexibility and innovative programming, create quiet study and workspaces, and meet multi-generational needs.
City of Greater Geelong – Armstrong Creek Library & Community Hub - $1,500,000
The City will deliver the first civic infrastructure in the Armstrong Creek town centre as a state of the art, environmentally sensitive, universally accessible, technologically enabled library and community hub for the delivery of library and community services for the Armstrong Creek growth area which is the largest continuous growth area in Victoria.
City of Greater Geelong – Chilwell Library Redevelopment - $150,000
This redevelopment project features a multipurpose meeting space, small meeting room and internal bathrooms at Chilwell Library. The design will maximise the interface with the surrounding park, increase the building size by approximately 164m2 and the capacity from 19 people to up to 60.
City of Whittlesea – Patterson Drive Community Centre Spoke Library - $709,500
This project sees the construction of a community terrace and lounge containing a small collection, kiosk and study/maker space area. The project will also include the construction of a carpark to accommodate the mobile library service.
Corangamite Shire Council – Skipton Library Book Depot - $49,541
Established at the Skipton Mechanics Institute in a dedicated space, the funding will be used to provide the necessary fixed infrastructure to support the development and fit out of a library book depot including a self loan station, WIFI equipment, anytime access entrance unit for main access door, access ramp and entry platform to the room.
Gannawarra Shire Council – "the Glasshouse" @ the Gannawarra - $1,500,000
This project will build "the Glasshouse" media lab and meeting place at the Sir John Gorton Library in Kerang.
Goulburn Valley Regional Library Corporation – Refresh and modernise Euroa Library - $91,850
Refresh and modify the Euroa Library to provide a contemporary library space and improve community access.
Goulburn Valley Regional Library Corporation – Refresh and modernise Numurkah Library - $110,440
Refresh and modify the Numurkah Library to provide a contemporary library space and improve community access.
Moonee Valley City Council – Ascot Vale Library - $1,500,000
Ascot Vale Library will be significantly expanded and renewed, responding to years of community feedback and an identified library infrastructure planning need. The floorspace will increase from 220m2 to 597m2, creating spaces for programs, study and meetings, which are much needed by the community who use this library.
Moorabool Shire Council – Ballan Library & Community Hub Project - $1,500,000
The Ballan Library & Community Hub will deliver a state of the art facility including library services, Maternal & Child Health, art exhibition space, visitor information centre and community meeting rooms of various capacity. The Hub will deliver services to young families through to the 65+ members of our community.
Wyndham City Council – Truganina Community Centre - $921,169
The library services area within Truganina Community Centre will include: book returns chute accessible inside and outside of the centre; book sorting and storage room; technology lounge with access to PC's and/or laptops; silent study space; and a library lounge area with bookshelves and seating for individuals and groups including an early years library lounge with bookshelves.
Ararat Rural City Council – Outreach Van - $120,000
This project will upgrade the Ararat Rural City Council library outreach service by purchasing a new library van including fit-out. The ARCC service provides weekly library access to the Shire's outlying rural communities.
Ballarat City Council – Ballarat Library of the Future - $500,000
The refurbishment of the Ballarat Library will increase public floor space of the library by approximately 600sqm and the develop the second storey for public use which will house the digital hub. The main entrance will be relocated to interact with GovHub, Civic Hall and the CBD, children's area will be expanded and upgrade to cater for story time and other programming for 100 people as well as a dedicated 'discovery' space for children.
Buloke Shire Council – Wycheproof Library - $240,000
The Wycheproof Community Resource Centre will be extended to create a purpose-built space to deliver the Buloke Library Service with improved access and allowances for new services to be implemented.
Central Goldfields Shire Council – Dunolly Library - $140,600
The Dunolly Library will provide the community and surrounds with a permanent library. The "Old Police Station" will be renovated, a ramp installed to allow access for all, removal of an internal wall to maximise space, recarpet, paint and provide shelving units and construct all abilities toilet facilities.
Greater Bendigo City Council – Kangaroo Flat - $400,000
An improved library service will be delivered for the community at a new highly-accessible location following expiration of the 40-year Lansell Square lease. The new site will provide larger flexible program spaces, areas for children and families, expanded room for IT and personal workers and potential for new local community focused partnerships.
Hindmarsh Shire Council – Jeparit/Rainbow Libraries - $300,000
This project will see the establishment of new Libraries in Jeparit and Rainbow through the redevelopment of existing Council owned buildings that will provide people of all demographics and abilities access to a broad range of literacy services and programs in refurbished community facilities.
Knox City Council – Knox Central Library - $450,000
The Knox Central Library will more than double in size by moving premises and redeveloping a larger, more central building. This will also increase the library's appeal/accessibility across all life stages due to the safer, more activated location within an entertainment precinct, offering scope for increased hours and broader service offering.
Nillumbik Shire Council – Diamond Valley Library - $500,000
This project will refurbish the existing dated library building which will include ensuring accessibility compliance, extending the children's area, including a Tech Area, building a community meeting room, refurbishing the quiet study area, and, introducing co-working spaces. The project is a collaboration between Nillumbik Shire Council and Yarra Plenty Regional Library.
Pyrenees Shire Council – Outreach Van - $120,000
The outreach library services to the Pyrenees Shire communities will be improved by purchasing a purpose-built mobile library van including fit-out. The service currently visits Landsborough Resource Centre, Snake Valley Primary School and Lexton Rural Transaction Centre, and will provide the opportunity to expand the service to other communities in the Shire in the future.
South Gippsland Shire Council – Korumburra Library - $750,000
The Korumburra Community Hub Development is an integrated project of community services and will accommodate a new library, Milpara Community House, Senior Citizens, Historical Society, Rotary Club Art Collections and exhibition spaces. The new library will incorporate a breakout zone/reading lounge, young adult area and youth games area, quiet study zone and internet and printing hub, new children's area, computer lab and separate adult and youth books area.
Yarra Ranges Shire Council – Belgrave Library - $450,000
At the completion of this project, the Belgrave Library will have an increased flexibility of its current spaces and will be a contemporary future-proof library, whilst maintaining its traditional strengths. Upgrades will include the entrance way and foyer, service desk, meeting rooms, zoning of spaces & fixtures and fittings.
Yarriambiack Shire Council – Outreach Van - $120,000
A new Outreach Van will provide Community based Library options across the Yarriambiack Shire Council area. These options are driven by Community need and set up to provide better access to Library services for all age groups ensuring people live with literacy.
More information
For further information on the Living Libraries Infrastructure Program, please contact:
Melissa Short, Program Manager
melissa.short@ecodev.vic.gov.au
0434 780 150