Local Government plays an indispensable role within our federated system of government and Victoria's councils already do an outstanding job. They deliver vital and valued local services.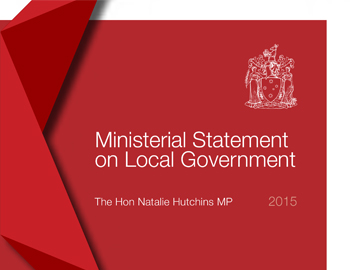 They build local economies and, as the government closest to the people, provide meaningful local democracy.
Councils are a key partner with the state in improving the lives of Victorians. Victoria is unique in recognising local government in our state Constitution as a distinct and independent tier of government. Investing in council performance will deliver a substantial return for Victorians.
This statement outlines the Andrews Government's plan to reform local government and help councils to deliver for households and businesses right across our state.
It articulates how our key commitments will be implemented and how we will improve integrity and governance, strengthen capacity and performance and provide the platform for local government to deliver for communities wherever in Victoria they live.
The Local Government Reform Agenda includes:
Implementation of a Fair Go Rates system, investment to improve the response to growth pressures faced by interface councils and delivery of a modern, new Local Government Act for Victoria;
Improvements to the integrity, capacity, performance, sustainability and value delivered by local government for Victorian families; and
A modern, co-productive relationship between the State Government and councils to achieve better outcomes which benefit all Victorians.
I invite you to work with me to strengthen Victorian councils as they contribute to connected, sustainable and prosperous Victorian communities.
Ministerial Statement for Local Government: