Outdoor Eating and Entertainment Package 2020-21
The Outdoor Eating and Entertainment Package supports councils to expand outdoor dining as part of the roadmap to reopening.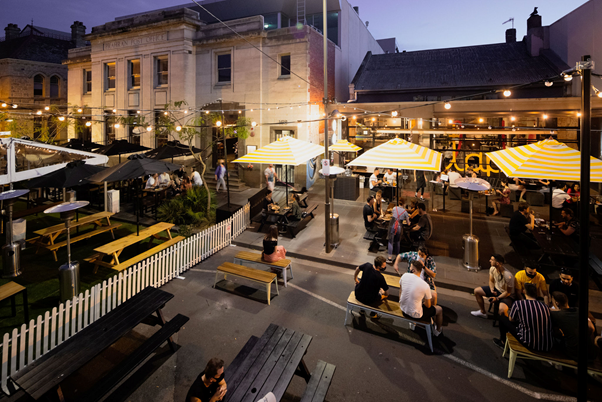 In September 2020, the Victorian Government committed funding of $29.5 million to local councils to help them implement swift and streamlined permit, enforcement and monitoring processes to support expanded outdoor dining.
In January 2021, the Victorian Government committed an additional $5 million to a second, competitive program round to enable eligible local councils facing significant and unique challenges to access additional financial support.
Guidelines and Assessment Process for Applicants
The package is a competitive grants round, with eligible councils assessed on whether they face unique and significant challenges in activating outdoor dining that require further investment.
Applications opened on 5 February and closed at 2pm on 26 February 2021.
Eligible councils under Round 2 are:
Metropolitan councils (excluding City of Melbourne)
Regional cities (Ballarat City Council, Greater Bendigo City Council, Greater Geelong City Council, Greater Shepparton City Council, Horsham Rural City Council, Latrobe City Council, Mildura Rural City Council, Wangaratta Rural City Council, Warrnambool City Council, Wodonga City Council)
Peri-urban councils (Bass Coast Shire Council, Baw Baw Shire Council, Macedon Ranges Shire Council, Moorabool Shire Council, Golden Plains Council and Surf Coast Shire Council)
Successful Applicants
Round 1
Metropolitan councils and regional city councils received $500,000 in assistance, while rural councils received $250,000. This money is supporting businesses by reducing or waiving permit fees and being invested in infrastructure such as streetscaping and lighting.
Round 2
| | |
| --- | --- |
| Council | Funding |
| Boroondara City Council | $200,000 |
| Greater Geelong City Council | $300,000 |
| Monash City Council | $500,000 |
| Port Phillip City Council | $500,000 |
| Stonnington City Council | $200,000 |
| Yarra City Council | $500,000 |
| Whittlesea City Council | $70,000 |
| Banyule City Council | $150,000 |
| Maribyrnong City Council | $250,000 |
| Darebin City Council | $150,000 |
| Frankston City Council | $200,000 |
| Glen Eira City Council | $250,000 |
| Hobsons Bay City Council | $350,000 |
| Mildura Rural City Council | $200,000 |
| Moonee Valley City Council | $350,000 |
| Moreland City Council | $350,000 |
| Mornington Peninsula Shire Council | $100,000 |
| Wyndham City Council | $80,000 |
| Yarra Ranges Shire Council | $50,000 |
| Bass Coast Shire Council | $200,000 |
| Horsham Rural City Council | $100,000 |
| Wangaratta Rural City Council | $150,000 |